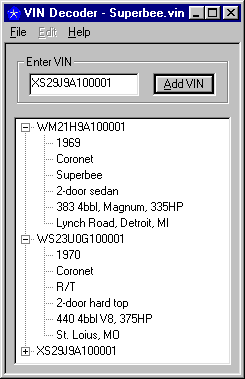 1966-1974 VINs
Works on Chrysler, Dodge, Plymouth, and Imperial cars
Display year, make, model, engine, horse power rating, and production plant
Load / Save VINs for future reference!
If there is insufficient information to decode an item, there will be a reasonable guess, and a '?' at the end of that line.
i.e..(A Challenger before 1970)
Resizable window allows you to view more than one VIN at a time.
Collapsible tree structure makes it easy to read your VINs.
Download here:

Decoder.exe (212kb)
Thanks to Paul Casser of www.mopar-stuff.com for writing this great program. Check the above link for any future program updates.